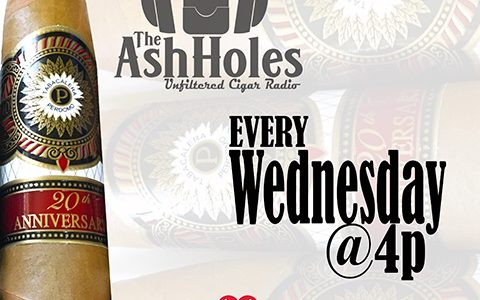 Episode #38 – Perdomo 20th Anniversary Connecticut
The Perdomo 20th Anniversary cigars are hand-crafted with the finest tobaccos grown exclusively on Perdomo's most prestigious farms in Esteli, Condega, and the famed Jalapa Valley in Nicaragua. Using the highest priming tobaccos from each region, the Perdomo 20th Anniversary has a tremendous flavor profile with layer upon layer of rich, elegant, complex flavors. After being fermented to perfection, each wrapper is barrel-aged in bourbon barrels for an additional 14 months. These barrel-aged wrappers are at their peak color and flavor, making each Perdomo 20th Anniversary cigar impeccably smooth from beginning to end.
As Perdomo rolls out new packaging for the 20th Anniversary that includes an incredible looking band made in Holland we light up the 20th Anniversary Connecticut. At this years IPCPR show the state of the art booth was always packed and featured Nick's drum set which is always an attraction.
We will also take a look at viewer mail, go miles with Styles and make our Social Media pick of the week on this weeks episode of The AshHoles.
Join us live from Two Guys Smoke Shop in sunny Salem, New Hampshire at 4pm Eastern.
As always you can find this cigar and many of the cigars we talk about on www.2guyscigars.com