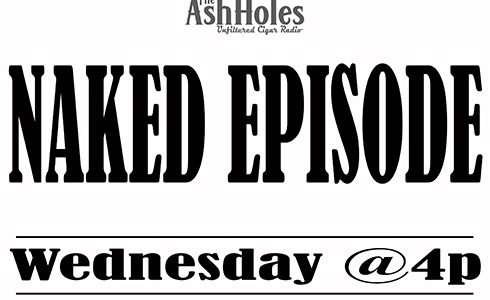 Episode #39 – The Naked Episode With Winston Churchill Late Hour
Be afraid, we are naked. It's the 39th Episode and we decided to do it naked. Forget about three men in a tub, you have 3 men puffing away on the Davidoff Winston Churchill Late Hour.  It's been often said that Sir Winston Churchill would spend time in the Late Hours behind closed doors working in solitude or with trusted colleagues. During these Late Hour moments he was never without a cigar and often he was with an exceptional scotch as well. Davidoff brings together that moment with the Winston Churchill Late Hour. The Late Hour cigar is meant to be enjoyed when the end of the evening is the start of something more; when thoughts and discussions weave interesting paths into the night.
The path chosen is a naked one and we invite you to tune in to find out why we decided to strip, and puff on a cigar…. It might be something you will never unsee, but it will be worth the laugh…
We have Miles with Styles, Social Media Pic of the week and all the usually stuff that makes us Ash Holes, or in this case naked Ash Holes.
Today's episode has been pre-recorded Live from Two Guys Smoke Shop in sunny Salem, New Hampshire.
As always you can find this cigar and many of the cigars we talk about on www.2guyscigars.com